Considering doing business with General Tool?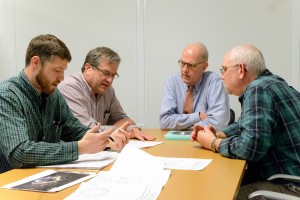 Our clients rely on General Tool to meet their technical requirements, schedules and budgets. How do you know that these will be met? In 2010, GTC created its Project Management Office to improve communication and the flow of technical information internally and externally by using a more structured system.
The PMO Group was designed to support our growing portfolio of Tier 1 defense projects and today is used for all of our orders. After receipt of a PO, a "kickoff" meeting is held here at GTC with all of the department leaders to make sure we understand all requirements and that we all the information we need to proceed. Here, we will review your Purchase Order and all technical requirements on the part prints or models. We also examine the Quality notes, outsourcing requirements for coatings or heat treat etc., and special part marking, packing, or shipping instructions etc. This takes extra time but any small detail can determine the success or failure of a job.
Following that, you'll receive detailed notes and a status update using MS Project with any frequency that you would prefer, along with photos or any other details you require. During the production cycle, you will have contact information including the cell phone or all key contacts at GTC. We welcome calls from you at any time, although your primary contact will have the most detailed and up to date information Being ETDBW-Easy to do Business With- is a foundational tenet in our company culture here at GTC.
We recommend that you visit us as frequently as possible to meet our skilled teammates that are doing the actual work on your parts. We're happy to provide references with our customers; but, when you come in and meet our people, you'll have a better sense of our capabilities and our Company Values that drive us here at General Tool Company.
GTC Project Lifecycle

Step One

Project Award and Kickoff

Specialists Assigned To Team
Review Scope with Customer
Publish Delivery Schedule

Step Two

Detailed Planning

Manufacturing, Quality, and Risk
Supply Chain
Review Previous Lessons Learned

Step Three

Execution

Production
Regular Customer Communication
Change Management

Step Four

Closeout

Customer Interview
Capture Lessons Learned